A list of events which might be good for either young people, young adults or those who work with them. In no particular order:
ENCOUNTER EVENINGS
(for 15-30 year olds) – These evenings are hugely popular, and have been running for a few years now. They include live music, Adoration, food, an inspiring talk, and the chance to meet other young Catholics.
The next evening in Guildford will be after the summer break. Check back for more details.
The next evening in Crawley will be on Friday July 21st. Gillian Regan will be the guest speaker.
The next evening in Bognor Regis will be on Friday July 14th. Fr Paul Turner is the guest speaker.
The next evening in Bexhill-on-Sea will be on Friday September 29th. Speaker TBC.
THE BIG ENCOUNTER 2017 – Our first Diocesan ENCOUNTER Festival is happening on Saturday November 11th at Newman College in Hove. Programme runs from 7pm to 9.30pm. One Hope Project – probably the biggest Catholic group in the UK right now – are leading the music, and our guest speaker will be Maria Rodrigues from Premier Christian Radio. Bishop Richard will also be there. The evening will be an extended version of a regular ENCOUNTER. On other words, even more awesome!
Breakthrough – Training and Networking for Youth Leaders. More details here.
ENERGISE FESTIVAL FOR 11-14s – Happening at the Cathedral on Sunday November 19th. More to follow…
Retreats at Worth Abbey – The Wellspring community run regular retreats at Worth Abbey for teens and Young Adults. The next one – THE GREAT ADVENTURE – will be October 27th to 29th for 11 to 13 year olds. For more information, contact fcarbone@wellspringbrighton.org.uk. Poster here: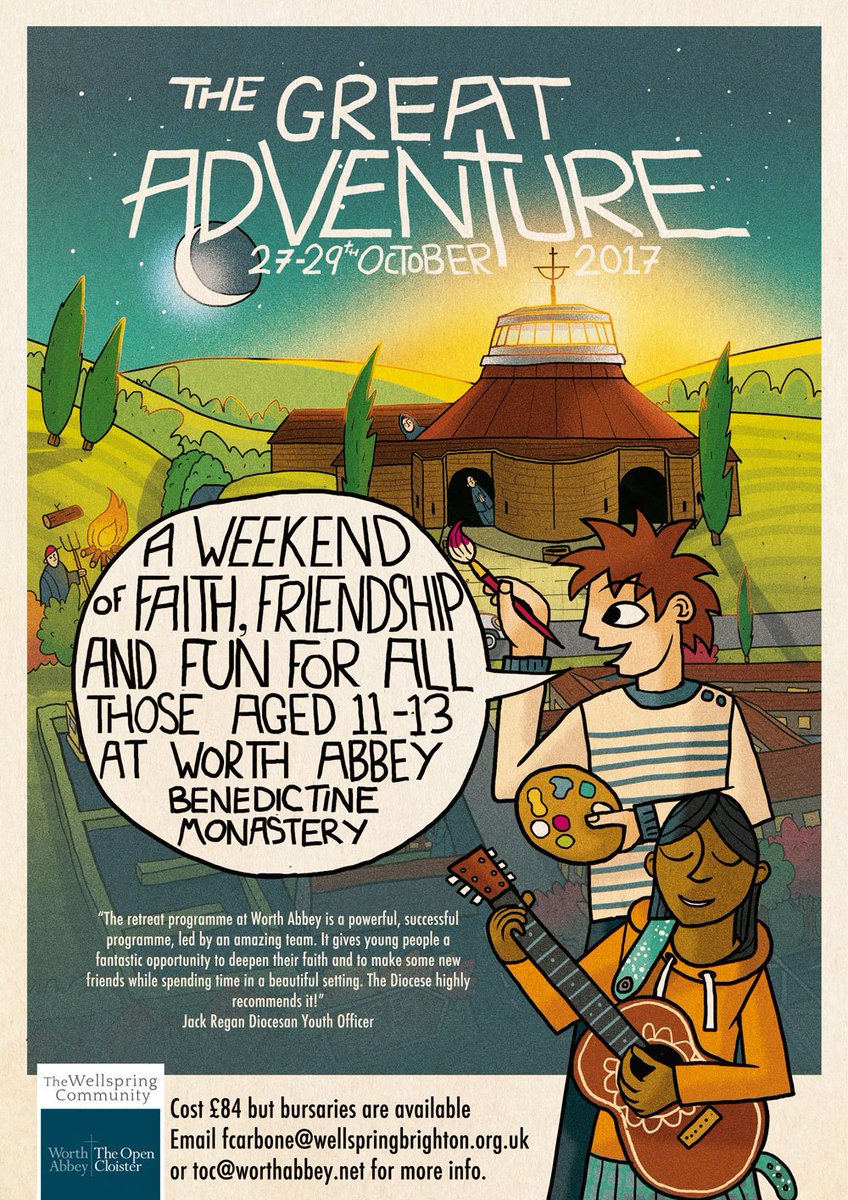 Evenings of Reflection with Bishop Richard
– Held at various locations around the Diocese each January-March. These evenings are led by Bishop Richard and are focused on the practice of Lectio Divina. They are particularly used by Confirmation groups.
More here…
Joel's Bar, April 1st to 6th 2018 – Joel's Bar is the Young Adults stream of the Celebrate Conference, now run as a separate event. It's held at Worth Abbey each Easter Week. More here…
Fire & Light Evenings – The Cor et Lumen Christi community runs evenings of charismatic Praise & Worship every month or so. These are charismatic evenings, centered around Eucharistic Adoration and Prayer Ministry. They are open to anyone, but there is a stream for 16-25 year olds. Check their events calendar for dates. Note that the Youth Stream starts earlier than the main event, running from 7-10pm.
Damascus Camps – Residential events for teens and young adults, run by Guildford Parish. These are highly recommended, and have been running for a long time. What's more, they're held right here in the Diocese!
Welcome to Paradise – This is an amazing Catholic festival for 18-30s run each summer at Hautecombe Abbey in France. (Don't worry… it's very accessible to non French speakers). The week in early August combines prayer and talks with sporting activities such as archery, canoeing and water sports! It's run by the brilliant Chemin Neuf Community.
Other Chemin Neuf Events – Chemin Neuf run a number of events for teens and young adults, which are always worth checking out. More details here.
Various Youth 2000 events – Youth 2000 are a fantastic organisation running events for young Catholics all around the country. Their main event is the Prayer Festival every year in Walsingham at the end of August, but they have smaller events throughout the year around the country. More details here.
Safeguarding training sessions for volunteers: The Diocesan safeguarding team are running a series of two hour training sessions round the Diocese, designed to give people a basic grounding in safeguarding good practice. This is something often requested by youth ministers, so it's an opportunity worth taking up. Details here.
New Dawn – This is a HUGE charismatic conference which happens each year in August, held in Walsingham.
Celebrate Conference – This is another big Charismatic conference. In most years there is a week-long conference held in Ilfracombe. There are also weekend conferences held locally, including one in Brighton most Julys.
Big Church Day Out – Huge Christian festival (ecumenical) held each year at Wiston House in our very own Diocese, featuring some of the biggest names in Christian music. There is also a Mass for Catholics. This happens during the bank holiday weekend at the end of May. Talk to Jack about getting a reduction on ticket prices.
Flame Congress – this is the major Catholic festival for Young Catholics in the UK, held every two years, with the next one in 2019, likely around March.
CYMFed Leaders' Congress – these events for adults held in Euston, London, are held in the alternate year to Flame events. The next one will likely be in February 2018.
World Youth Day – Large international gatherings of Catholic Young People around the Pope. These are held every two to three years. The next one is in Panama in 2019. Typically, the Diocese only sends a group to the European events, though we can help those who are interested in going to Panama to find a group to go with.
Open air plays at Wintershall: The Wintershall Charitable Trust aims to spread the Christian faith through dramas. Their two main plays each year are the Life of Christ play (Usually mid-late June) and the Nativity (December). Both are quite spectacular and a great experience for youth groups and school groups. They also do The Passion of Jesus each Good Friday in Trafalgar Square. You can book or find out more on their website.